Shining light on Bashir's crimes in an unconventional way
By Julia Boccagno, United to End Genocide
22 April 2013
Engaging in a creative protest to shine a light on the actions of the government of Chad, members of the Darfuri diaspora and activists with the BashirWatch project gathered at the Embassy of Chad with a giant video projection that was played on the Embassy walls.
Watch the video here: https://vimeo.com/64260662
The action was designed to place pressure on the Chadian government to prohibit Sudanese President Omar al-Bashir from entering the country for the fourth time since the International Criminal Court charged him with committing war crimes, crimes against humanity and genocide.
As a member party of the International Criminal Court, Chad has a legal obligation to cooperate and arrest President Omar al-Bashir—the man responsible for systematically murdering over 300,000 innocent civilians in Darfur. (read more)
Chad: Don't Welcome ICC Fugitive
By Human Rights Watch
25 April 2013
(New York) – The government of Chad should arrest Abdelraheem Mohammed Hussein, the defense minister of Sudan, Human Rights Watch said today. He is expected to attend a conference in Chad on April 25 and 26, 2013, according to news reports.
Hussein is sought by the International Criminal Court (ICC) on charges of war crimes and crimes against humanity committed in Darfur, where he served as the Sudanese president's representative for the region in 2004, during the height of the conflict. The ICC issued an arrest warrant for Hussein on March 1, 2012, and this appears to be the first time he is traveling to the territory of an ICC member.
"Chad should stand with Darfur's victims and arrest, not welcome, Hussein," said Elise Keppler, senior international justice counsel at Human Rights Watch. "He is a fugitive from justice who is sought with respect to heinous crimes committed in Darfur." (read more)
Nigeria gun battle was joint assault with Chad, Niger: sources
By Tim Cocks, Reuters
23 April 2013

A bloody gun battle against Islamist insurgents in Nigeria last week involved forces from neighboring Chad and Niger, officials said on Tuesday, as West African countries increasingly view jihadist groups as a cross-border threat.

A joint force of more than 100 was assembled after an intelligence report said militants from the Boko Haram militant group had moved into Baga, a fishing town in northeast Nigeria on the shores of Lake Chad, two Nigerian military sources, a senior officer from Niger and a Chadian military official said. (read more)




Borno State Governor Kashim Shettima (C) visits injured victims of heavy fighting at a hospital in Baga, in this April 21, 2013 handout photo. (Reuters/Handout)
Voice of America

Migrants, Refugees Flee to Chad
By Joe DeCapua, Voice of America
16 April 2013

Migrants and refugees are entering Chad from the north, east and south, as they flee violence and instability in neighboring countries. The International Organization for Migration is appealing for three and a half million dollars for emergency humanitarian assistance.

On Chad's eastern border, migrants and refugees are escaping fighting in Sudan's Darfur region. Two Arab tribes are battling for control of gold mines.

IOM Chief of Mission in Chad, Qasim Sufi, said the latest influx from Darfur began three weeks ago. (read more)



Mali crisis: Chad's Idriss Deby announces troop pullout
BBC News
15 April 2013
Chad, one of the largest supplier of troops battling Islamists in Mali, has started to pull them out, President Idriss Deby has said.
"The Chadian army does not have the skills to fight a shadowy, guerrilla-style war that is taking place in northern Mali," he said.
Three Chadian soldiers were killed in a suicide attack in Mali on Friday.
Soldiers from Chad, France and other African countries have ousted Islamist militants from northern Mali's towns. (read more)
Some 50,000 flee Sudan into Chad after Darfur clashes
By Bate Felix, Reuters
12 April 2013
N'DJAMENA - Some 50,000 Sudanese have fled into southeastern Chad in the past week following fresh tribal conflict in the restive Darfur region, U.N. and Chadian officials said on Friday.
Melissa Fleming, a spokeswoman for the U.N. High Commission for Refugees, said the fighting had spread as each side received reinforcements from tribal allies and had become more violent, with entire villages being razed.
A total of 74,000 refugees had fled to Chad in the past two months, she said. (read more)
Chad President: Self-Proclaimed C.Africa Leader Cannot Be Recognized By Naharnet Newsdesk
3 April 2013

African heads of state decided Wednesday that it was impossible to recognize rebel chief Michel Djotodia as president of the Central African Republic (CAR), and want the country to elect a transitional president, Chad's leader said at the end of a summit called to discuss the political crisis.

"As things stand now, it is impossible to recognize a self-proclaimed president," Chadian President Idriss Deby told journalists. "A committee selected by national figures must lead the transition. This body will have the executive role and must vote for a transitional president" who would serve for no more than 18 months. (read more)



Chad: 2013 humanitarian response threatened by funding crisis
African Press Organization, Newstime Africa
21 March 2013
The United Nations Resident and Humanitarian Coordinator for Chad Mr Thomas Gurtner is today meeting with key regional partners in Dakar in order to develop a common Sahel strategy and to raise the alarm on the funding crisis facing humanitarian actors in Chad. Almost three months into the year, the 2013 humanitarian Common Appeals Process (CAP) of $500 million in Chad is only financed at 9% and UN agencies forecast that humanitarian funding this year could only reach a third of the amount received in 2012.
"I have spent the last days consulting with key humanitarian actors and we all are becoming increasingly concerned by a looming funding gap that endangers to wipe out the positive advances our humanitarian programmes were able to achieve during 2012," said Mr Gurtner. "The humanitarian situation in Chad continues to be precariously volatile and we need immediate funding in order to maintain the most critical current activities, let alone respond to new crises." (read more)
Sudanese President Omar al-Bashir arrives at the African Union headquarters in Addis Ababa, Ethiopia on January 25, 2013. (Reuters)

Chad: Don't Welcome Back Al-Bashir
Human Rights Watch
15 March 2013

(New York) – The Chadian government should arrest President Omar al-Bashir of Sudan or bar him entry to Chad, Human Rights Watch said today.

News reports indicate that al-Bashir will travel to Chad to attend the Greenbelt Conference of the Community of Sahel-Saharan States on March 18, 2013. Al-Bashir is sought by the International Criminal Court (ICC) for genocide, crimes against humanity, and war crimes committed in Sudan's Darfur region.

"Chad should join the many African countries that have said they'll arrest al-Bashir or prevent his visits," said Elise Keppler, senior international justice counsel at Human Rights Watch. "Activists across Africa have called for Chad to stand with victims and to ensure that the Sudanese president is surrendered to the ICC for prosecution." (read more)



Africa: Chad Hosts Wanted Al-Bashir as Côte d'Ivoire Joins ICC
BY Stephen Lamoney, AllAfrica
20 February 2013

As Côte d'Ivoire takes a major step towards ensuring accountability for grave crimes by joining the International Criminal Court (ICC), Chad is once again failing to live up to its obligations as a member of the Court by hosting fugitive from international justice Sudanese President Omar Al- Bashir.

The Sudanese president is attending the summit of the Community of Sahel-Saharan (CEN-SAD) in the Chadian capital this weekend. He is expected to pay a further visit to Chad in mid-March.

Al-Bashir is no normal visiting foreign dignitary. He is the first sitting head of state wanted by the ICC for genocide, war crimes and crimes against humanity. Crimes allegedly committed against his own population in the Darfur region of western Sudan. (read more)
Senegal: Trial for Chad's Ex-Ruler
By Marlise Simons, New York Times
8 February 2013

A new internationally backed court opened on Friday in Senegal, and its judges will prepare a case against the former ruler of Chad, Hissène Habré, who has been living in exile in Senegal. Three countries have indicted Mr. Habré, 70, for crimes against humanity; Chad sentenced him to death for killings and torture carried out during his rule from 1982 to 1990. Senegal's president, Macky Sall, agreed to set up the ad hoc court in Dakar, the capital, where Mr. Habré is to be tried by African judges under Senegalese law. European countries are paying two-thirds of the court's $10 million budget; the African Union has been criticized for paying for only 10 percent of the court's costs.
© The New York Times, 2013
Chad remains at Stage 6, the Preparation stage preceding genocide

9 February 2012
Since its independence from France in 1965, Chad's history has been marked by tensions between the Arab-Muslim North and the Christian and traditional South.
In 1962, Hissène Habré seized power. During his rule, thousands of political killings and widespread torture took place. The killings included genocidal massacres against various ethnic groups such as the Sara, Hadjerai and the Zaghawa. In 1990 Habré was overthrown by Idriss Deby. Habré fled to Senegal.
In September 2005, a Belgian judge issued an international arrest warrant charging Habré with crimes against humanity, war crimes and torture committed during his rule and requested his extradition to Belgium under the Belgian law asserting "universal jurisdiction" over crimes against humanity. The request was rejected by Senegal. Despite renewed requests from Belgium, Senegal has refused Habré's extradition. [Extensive information about the Habré case can be found on the website of Human Rights Watch. Reed Brody, who has worked on the case for many years, continues his extraordinary quest to bring Habré to justice for his crimes.]
In 1996, Deby was confirmed as president after the country's first election. In 1998, his former defense minister Youssof Togoimi led an armed rebellion in the North, and Libya tried to annex a large northern strip of Chad. Chadian troops, assisted by France, drove Libya back. Despite a Libyan peace deal in 2002, genuine peace did not come until Gaddafi was overthrown in Libya in 2011.
In 2003 the situation worsened when the genocide in neighboring Sudan's Darfur region resulted in hundreds of thousands of Sudanese refugees fleeing across the border into Chad. Sudanese government backed Janjaweed militias extended their raids into Chad. Just as they did in Darfur, the militias raided dozens of black African Chadian villages, murdering, pillaging and displacing civilians.
The Sudanese government has supported rebels who have made three attempts to overthrow the Chadian government by force. These situations made Genocide Watch declare Genocide Warnings for Chad in 2005, renewed in April 2006 and January 2008. Chad remains at Stage 6, the Preparation stage preceding genocide.
Since 2010, ties between the Sudanese president al-Bashir and the Chadian president have improved. Although Chad is a state-party to the Rome Treaty of the International Criminal Court, which has issued an arrest warrant for al-Bashir, Chad refused to arrest Bashir when he visited the country in August 2010.
The improvement in relations between Chad and Sudan has not ended the hopeless situation of hundreds of thousands refugees in Chad. According to a report of Human Rights Watch (2011), there are still more than 250,000 Sudanese refugees and 168,000 Chadian displaced people in the eastern part of the country.
In February 2011, a report of the International Crisis group raised an Alert about Chad's Northwest, as the next high-risk area where violence and famine could endanger human lives. The region is totally ignored by the Chadian government, and very few international relief organizations have operations there.
Genocide Watch declared a Genocide Warning for Chad in November 2005, renewed in April 2006 and January 2008. Sudanese government backed Janjaweed militias have crossed the Chad border from Sudan, where they have raided dozens of black African Chadian villages, murdering, pillaging, and displacing civilians, just as they have done in Darfur, Sudan. Sudanese government supported "rebels" have made three attempts to overthrow the Chadian government by force, including two invasions of the Chadian capital, Njamena. Sudan's government denies its support for the Janjaweed and for the rebel forces, but Sudanese government bombers and helicopter gunships have bombed villages in both Darfur and Chad, and have armed the "rebels" which are based in Sudan. Although the Deby government in Chad was "re-elected" in 2006 in a vote boycotted by all opposition parties, and is deeply corrupt, having broken its agreement with the World Bank to spend revenues from Chadian oil on education and health, a takeover by Sudanese backed rebels would be far worse. It would expose refugees from Darfur to the murderous Janjaweed, would prevent deployment of European Union troops to protect them, and would help Sudan finish its genocide against black African peoples in Darfur and Eastern Chad. Use of Libya as a "mediator," after Libya fought a long border war with Chad and has itself tried to overthrow past Chad governments, is like asking a fox to mediate a conflict in the chicken coop.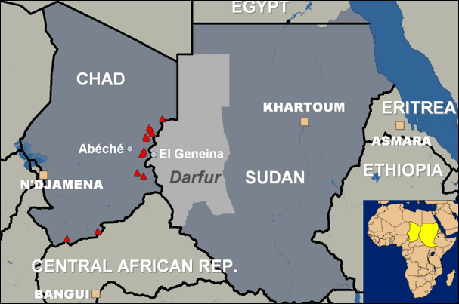 Copyright 2008 UNHCR
---
Genocide Watch is the Coordinator of the International Alliance to End Genocide
P.O. Box 809, Washington, D.C. 20044 USA. Phone: 1-202-643-1405
E-mail:communications@genocidewatch.org